Have you seen them? Those super nice and handy Beach Houses? Great help to store your crochet hooks and more in the shape of a Beach House!
The Beach Houses are the shining centrepiece of my newest Crochet Along. But what exactly is a crochet along and even more interesting: how does a crochet along work?
Do you crochet with me?
Crochet along is an established word among most crocheters and crocheters. It stands for crocheting a project together and is often abbreviated to CAL. In Dutch we use another word too, something like Crochet with me/us, but the English term crochet along is indispensable from the crochet world.
In this blog I will use the terms CAL and Crochet Along interchangeably.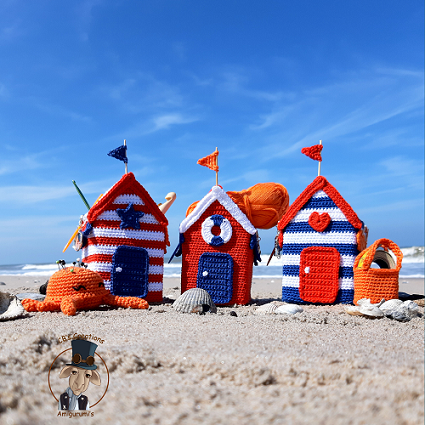 Crochet patterns in parts
The purpose of a Crochet along is that a new or existing crochet pattern is divided into a number of parts, each week the participants receive one part and together you crochet this pattern.
The subject of the crochet along can be very different. This way you can crochet together on a blanket, a sweater or a nice cuddly toy. You can imagine a blanket being spread out over a fair number of weeks because that's a big project. Crocheting an amigurumi pattern together usually takes about 4 or 5 weeks. For me, it's all about amigurumi's, so my crochet alongs will never last longer than 4 or 5 weeks.
How does a crochet along work?
There are many designers and crochet groups who organize crochet alongs, throughout the year. These are usually organized in a Facebook group that has been created especially for it or the CAL is part of an existing group. But crochet alongs are also organized via the Ravelry platform, for example.
With most CALs you know in advance what will be crocheted together. Do you prefer not to know what the project is, so that it remains a surprise until it is finished? This is called a Mystery CAL and these are also organized regularly. I prefer to know in advance what will be made, so I always announce the creation well before the crochet along starts. If it's not your thing, then you don't have to spend 5 weeks crocheting for nothing.
Yarn from your stash or ready-made yarn package
Often you can also purchase a ready-made yarn package with a crochet along. In such a yarn package there is actually everything except a crochet hook and fibrefill to make the project. If you crochet with your own yarn, you are free to determine your own brand of yarn and colour choice. That is certainly the case if you are going to participate in a CAL with me. The list of materials you need to crochet the project is always sent in advance or added to the files of the relevant Facebook group.
Own pace, no rush!
You can crochet at your own pace. Of course, there are also a number of rules: part of the pattern is with the files for 1 week, as soon as the next part is placed, the previous part disappears. So you have one week to download each part and immediately get started with it or to save the part and crochet it later. Here you will come across many exceptions or other rules, so many designers and Facebook groups, so many rules.
The crochet along of my Beach Houses is held in a specially created Facebook group and all parts of the pattern remain with the files of the group, until the group closes.
Do you also feel like participating in a crochet along? Have you mastered the basic stitches such as a Single Crochet, a Chain, a Slip Stitch and a Magic Ring? Then this is a nice CAL to participate in! I have listed all the information about Nelson's crochet along and his banjo. Rules and information CAL Beach Houses. The crochet along of the Beach Houses starts on June 7,