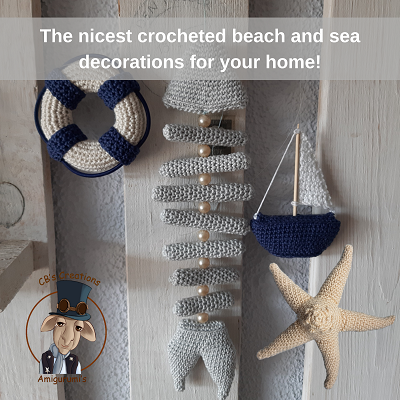 The nicest crocheted beach and sea decorations for your home!
If you do not live close to the sea and still want to get the beach feeling in your home, then it is nice to get started with it yourself. I will give you some ideas on how you can make nice decorations for your home with your crocheted creations around the theme of beach and sea.
You can see them all here: seahorses, starfish, fish, seagulls and beach houses!
Beach and Sea
I grew up in Den Helder. Really blissful so close to the sea and the beach.
You don't have to sit in the car for a long time to go to the beach. By bike it was 10 minutes and then we were at the beach exit.
Wonderful to walk through the dunes and on the beach in spring, autumn and winter and to look for shells. When the wind blows hard looking at the sea and be sandblasted! What more could you want?
In the summer we went out early and at 9.00 am we were already on the beach. Then it is still quiet and the sun is not so hot yet. We used to fish for shrimps too. Around 12:00, when the beach is full and it gets very hot, we went home again.
On the Coast, amigurumi crochet patterns
With these memories in mind, I designed the Amigurumi Crochet Bookazine On the Coast. Just in Dutch for the moment. Like Ebb and Flow, my brother and I went to the beach with our parents to build sandcastles, look for shells and fishing for shrimp. We also went to get fries and ate the tastiest ice creams while we saw the seagulls flying over the water.
For example, Marina wears the same hat and slippers as I used to wear and Sailor Jo is named after my father. In the Bookazine On the coast (Aan de Kust) you will also meet Beachcomber Nol and Lighthouse keeper Rinus.
But I don't live close to the sea anymore, unfortunately!
Every year I have to see, smell and feel the sea and beach again! Let's sniff the sea! What you quickly forget is that it is always windy!
Beach and Sea at my home
Because I can't go to the beach quickly, the idea arose to bring the beach to my house. I have a pallet hanging in the living room. It is a pallet that I painted with white chalk paint, with an extra shelf in it, 2 buttons and some hooks on it. My seagulls, life buoys and driftwood fish from the Beach and Sea crochet pattern fit in perfectly.
I can well imagine that not everyone has a pallet on the wall to hang and set up some beach, sea and coastal creations, but there are other fun ideas you can do to create a beach atmosphere while crocheting at home.
Tray with crocheted starfish
Take a nice tray with a raised edge. Crochet a pair of starfish and decorate them with French buttons or beads. Sprinkle some sand on the tray, for example use shell sand, put some crocheted starfish on it, supplemented with shells and, for example, some pieces of driftwood that you have found yourself on the beach or bought at the well-known shops.
Branch with crocheted fish and life buoys
Find a nice big branch. A large branch that you have found on the beach is super, but a branch from the forest is also very beautiful! You can possibly remove the bark from it.
Now crochet a fish of driftwood, a few ordinary fish, some starfish and life buoys.
Attach to all these crocheted creations fishing yarn or thin sisal rope and tie it to the branch.
Let them hang staggered, so that you make a beautiful wall hanger.
You can make a small version with 1 fish of driftwood, a sailboat and a starfish, or you can make a larger one as described above.
Match the colours of your crocheted beach creations to each other, it will be very beautiful as a whole.
Seahorse Zena
This cute seahorse should not be missed! Do you already see her hanging from that big branch, among the fish and starfish?! Just like with the fish and starfish, you can vary in colour but also with the yarn used. Just look at these 3 different seahorses crocheted with Stone Washed Yarn, Durable Soqs Tweed and plain cotton yarn. Depending on the yarn, you can also play with small beads or French buttons next to the mane / fins of the seahorse.
Sea and beach in the children's room
Buy or crochet a fishing net. Hang it in the nursery with all fish, lifebuoys and starfish in it. All crocheted of course! Don't forget to crochet a few seagulls, there are 2 different ones, to make it look even more real!
For the little ones you can make a baby mobile with, for example, all flying seagulls. Or combined with a life buoy, a sailboat and a starfish!
Mandala with starfish
Make a very simple mandala, which looks a lot like a fishing net. Crochet some small starfish and life buoys attach them to the mandala and you have a super cool decoration!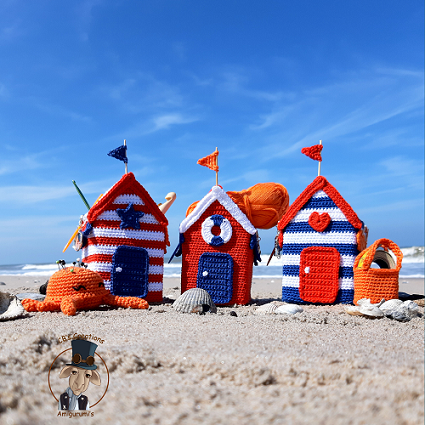 Very handy Beach houses!
These Beach Houses are very decorative. You can place them very nicely among all the other coastal decorations. You can fill them with all your crochet hooks and other crochet supplies, but you can also fill them with pencils for the kids to make a beautiful colouring page of the sea! Or how about as a coffee helper with sugar, milk and stirrers in it!!
If you crochet a straight patch, you can make a roof out of it and you have a closed house!
I hope I have given you enough inspiration to bring the beach into your home too!
All beach, sea, sand and coastal patterns can be found here:
Beach and Sea: Seagull, driftwood fish, sailboat and life buoys
Aan de Kust: Starfish, fish, lifebuoy and much more (Only in Dutch, not in PDF)
Seahorse Zena
Beach Houses