Help, there is sand in my crochet work!
Get a breath of fresh air on the beach
My husband and I regularly go to the coast. For example, during the summer holidays we sometimes go to the beach for a week. I grew up in Den Helder (The Netherlands) and every year I have to go to the beach and the sea. Just hear, see, feel and smell the sea! But if you've been following me for a while, this is old news!
We have been coming to Sint Maartenszee for years, where we stay in a holiday home on a wonderfully quiet park with the beach within cycling distance! If you take the car and drive a bit further south, you will also be on the beach of Petten. If you drive more to the north, you will automatically end up in Den Helder. Ideal for the beach lover, like me!
Hot chocolate milk and some crochet
The week that we were in Sint Maartenszee this time we experienced different weather types. Wonderfully sunny weather to sit outside or take a sunny walk on the beach. We also had rain and a lot of wind. But, hey, I wanted to get a breath of fresh air and that worked out very well!
Once we are a bit rained out on the beach, but then there is nothing better than drinking a hot chocolate with whipped cream in a beach bar! Going back to the cottage and sitting on the coach crocheting! Happy feeling! You also take something to crochet with you on holiday, don't you?
Beach photos of my crocheted creations
I regularly take pictures of my crocheted creations outside. This time I also had a bag with creations, which I crocheted, to take beach photos. We drove to Den Helder and walked the Hengstepad. The Hengstepad is a path of about a kilometre to the beach entrance that we used to take when we went to the beach. It can only be reached on foot or by bike. The first part through dunes and heathland is a large free-range field for dogs. Then you walk along the Dark Dunes (a pine forest) to the beach.
It had rained the day before, so the sand was a bit harder. It was slightly cloudy, but that didn't spoil the fun either. It was wonderfully quiet on the beach. It was weather to walk along the beach, not to lie down. I have chosen a nice spot with some helm grass, if you looked up the dunes and from the other side of course a view of the sea.
Crocheted seagulls on the beach
My bag of crocheted amigurumi's could open. In addition to Franklin Forge, I had also brought the seagulls from my crochet pattern Beach and Sea. Faye Flamingo and her friend sat in the bag with sorrow waiting for them to go outside. Two days before I had also crocheted a shell. I had filled the shell with my tankini, which I did not need with this weather!
Every now and then I had to ask if my husband could stand a little further away, because then he was clearly in the way! I spent a lot of time on my knees and lying flat to take pictures as low as possible, with the result that my pants had become wet and green and my shoes were full of sand. But I am very satisfied with the photos.
I designed the Beach and Sea crochet pattern specifically to have a piece of beach in my home, but this was a piece of me at home on the beach! So much fun!
After this photo reportage with my very willing photo models, I can rightly say that there is sand in my crochet work! Here is a small impression of my photo shoot on the beach.
Do you ever take your crocheted creations outside to take photos?
I often find it the most beautiful photos out there!
Maasvlakte, a little closer to home!
If we only want to go to the coast for a few hours, we sometimes drive to the Maasvlakte (Rotterdam, the Netherlands) for a walk along the beach. I look for shells at the same time and sometimes I have a bag with creations with me to take a picture of!
I took a picture of the Beach Houses at the Maasvlakte. It was a lovely sunny day with a beautiful blue sky with a cloud here and there! Also got wet knees again, that turns out to be part of it!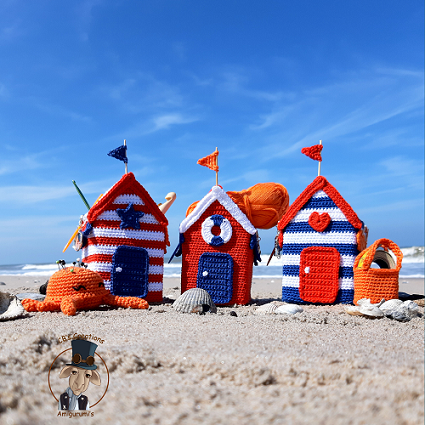 Do you also want to crochet these nice seagulls, flamingos and beach houses? In the pattern of Beach and Sea you will not only find the seagulls, but also 2 lifebuoys, a sailboat and a fish made of driftwood. Faye Flamingo's crochet pattern includes her ottoman and swimming pool. The Beach Houses are complete with a crab that carries your pins with him!
The direct link to their patterns can be found if you click the button. I also have a great blog about making pictures of your crocheted creations!