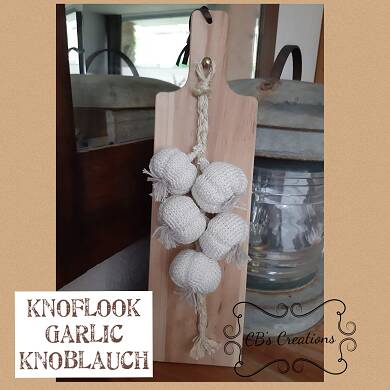 Crochet pattern Garlic to make a strand of garlic
This strand of garlic will be a nice addition to your kitchen! Find a nice wooden cutting board, make a braid of sisal rope and crochet some garlic bulbs.
These garlic bulbs are crocheted with cotton yarn.
This is not only a nice item for your own kitchen, but also very suitable to give as a gift. Anyone who loves to cook can certainly appreciate this beautiful gift.
Request the free crochet pattern of this Garlic Bulb below.
Your email address is safe with me. By requesting this free crochet pattern, you will also get the 2-weekly Stories of Franklin, so you will receive even more tips and news about (free) patterns. You can always unsubscribe if you no longer want to receive the stories and tips.
Chef Antoine
You probably already knew that he is good at baking all kinds of delicious cakes and cookies!
But he also makes many more dishes. Often he uses garlic in a dish!
Do you know that garlic is very healthy? It contains vitamins and minerals! And if your tablemates also eat garlic, then that smell is not so noticeable.