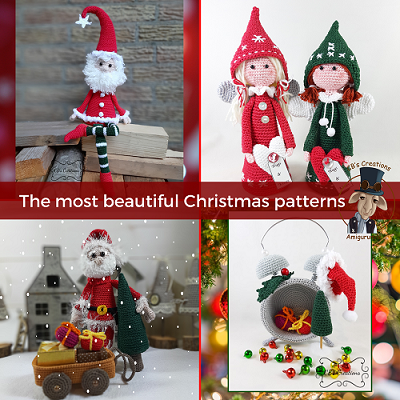 The most beautiful crochet patterns for Christmas
Christmas: the most beautiful time of the year!
For me, the whole year can be Christmas! Turning the whole house into a Christmas house, the cosiness, the Christmas tree and the Christmas presents!! It is a bit of a thing to get all the Christmas stuff from the attic and temporarily store the other things in the attic, but when everything is in it'd place it is so wonderful!
Of course, my Christmas house also consists of a number of crocheted creations. In this blog I have brought all my Christmas crochet patterns together.
My newest pattern for Christmas can be found in the middle of this blog!
Click on the image and you will be taken to the pattern.
Let's start with a tradition that is a tradition in America.
Christmas Stockings
What putting a shoe by the fireplace is for us in the Netherlands with Sinterklaas is hanging a sock in America on Christmas Eve. The Christmas sock is an integral part of the American tradition. These Christmas Stockings come in all shapes and sizes and belong to the Christmas decorations in more and more countries.
This is my variant: a crocheted Elf Stocking, the vintage version. But make it in any colour and as colourful as you want, use decorations that you like and fit in your Christmas home!
Crochet the Christmas Sock with nice thick yarn, then it becomes big and can hold many presents! And you don't always have to hang it on the fireplace, I sometimes just hang them on the cupboard.
Crochet pattern Wooden Pinocchio
Somehow I think my wooden Pinocchio also fits perfectly with Christmas. Maybe because it's so beautifully red? At home on my bookshelf are two of these wooden dolls. Unfortunately, the nose of one of the two is behind the closet, killed during dusting or lost during a lie....
My wooden doll has movable arms and legs, just like the wooden puppet, invented by the Italian writer Carlo Collodi in 1883 (Le avventure di Pinocchio). My inspiration comes from an illustration by Enrico Mazzanti from 1883. Now not made from a piece of pine tree, but completely crocheted. Maybe one day he will be a real boy again....
This decorative Wooden doll is also very nice if you crochet it in other colours!
Nutcracker Soldier
I love Nutcrackers. I have several in all sizes. They are on my cupboard or hanging in my Christmas tree! Nutcrackers come from the classical ballet "The Nutcracker" by Tchaikovsky.
The story takes place on Christmas Eve. Clara, the main character, gets into a fight between the mice, which are led by the Mouse King, and the gingerbread men and tin soldiers led by the Nutcracker.
I executed one of the tin soldiers in a crochet pattern, my own Nutcracker Soldier.
In time for Christmas? Set your alarm!
The Highest Time for Sinterklaas and Christmas
It is the highest time for Sinterklaas and Christmas. And actually so much more! With this super fun alarm clock I combine my favourite activities: crafts and crocheting! Using a plastic tray, a cap and aluminium wire and of course cotton and a crochet hook, you make this alarm clock where you can let your imagination run wild!
With this crochet pattern of the alarm clock, you are in time for Sinterklaas and Christmas! The 7 small patterns of the clog, presents, Christmas tree, Christmas hat for example the staff of Sinterklaas, which belong to it, can be found last in this crochet pattern.
A Merry Christmas with Merri-Xmas
This is handy, Merri will help you bring home the Christmas tree! If you are decorating the Christmas tree, he will get all the Christmas presents for you!
Through wind and weather and of course snow he drives back and forth with Christmas trees and presents. He has been proclaimed super helper of Santa Claus!
You can make the cart yourself from sturdy cardboard or you are looking for a box or tray with the right dimensions!
After the wheels are put on, the cart can really drive!
Did you know that you can also use that cart with other creations?
Amigurumi Crochet Pattern Hope and Sparkle
Sparkle and Hope are my vintage Christmas elves! Real helpers of Santa Claus, they are at home in all markets! They help with wrapping presents and baking tasty cookies. If you don't look for a minute, they have already hung the Christmas decorations. With me they can rest, wonderfully with the two of them, on the edge of the dresser, where they can let their legs dangle over the edge.
Even if you make this crochet pattern with the "real" Christmas colours, they will be super fun!
Amigurumi Crochet Pattern Flake the Snowflake
Let it snow heavily this winter and Christmas!
You are sitting inside by the stove and are crocheting as many snowflakes as you want. These are super decorative and really won't melt! This way you can enjoy a white Christmas for a very long time!
Tip: Crochet a lot of them and make a garland out of them. Or crochet them in different thicknesses of yarn, you will get a nice collection of snowflakes!
Noelle
Noelle should definitely not be missing in your home this Christmas! She is a sweet Christmas charm. A nice crochet Christmas decoration that you can vary endlessly in colour and decorations. In her hands she has a crocheted heart. Give Noelle a nice message and she gets a very personal touch!
How many different Noelle's are you going to crochet this Christmas?
Holly
Holly is an amigurumi crochet pattern of an Elf girl with holly, bird and lantern.
Holly loves Christmas, but especially Christmas green! The holly and the red berries are her preference. These red berries have a great attraction to birds, which they love. For humans and elves, the berries are poisonous.
Did you know that according to ancient superstition, holly would provide protection against lightning strikes and against hostile forces such as demons and witches?
Crochet pattern Pulling dolls
Jumping Jack Christmas
Do you like Christmas and crochet and crafts? Then this is the pattern for you!! This Santa Claus and Christmas Elf love to dance! The crocheted version of a pull puppet!
A pulling doll or jumping jack is a flat toy doll with hinged limbs that move when one pulls on a string that hangs at the bottom of the body. Playing with pull puppets was especially popular with children in the nineteenth century. The doll could be made of wood or fabric, but more famous are the versions of paper.
After the pasting and cutting, the possible colouring of the body parts, the clothing and the assembly, the entertainment could begin.
This Santa Claus and Christmas Elf love to dance!
Christmas Gnome
How about these two variations on a Christmas Gnome: a Santa Gnome and a Christmas Tree Gnome! But beware, before you know it you have an invasion of Gnomes in the house!
If you do not want to crochet with fluffy yarn for the beard, use a piece of fake fur!
IJsbrand the Bear as Christmas Elf
Remember IJsbrand the Bear? He was my very first Crochet Along that I organized myself in 2018. IJsbrand always dresses warmly, because all that snow and ice is nice, but also very cold!
Two years ago, IJsbrand was allowed to help Santa Claus as a Christmas Elf. He was also in the Dutch Crochet Magazine Aan de Haak! He thought that was a great honor. The pattern of IJsbrand as Christmas Elf can now also be found on the website. This time he is not crocheted with acrylic yarn but with cotton yarn.
If you already have the pattern of IJsbrand, it is also possible to purchase only the pattern of his Christmas Elf clothing.
Wick
We can all use some extra light and warmth!
Wick takes care of that. Wick is a candle with a very good mood! He brings light and warmth in dark times. He has a great time, in his tin candles standard covered with sheet music. If you listen carefully you can hear him humming!
Wick has a candle on his head where you can put a LED tealight. Wick has no legs because he's in a can, but he doesn't need them at all. He is satisfied where he is!
The last pattern is not specific to Christmas but to winter:
Crochet pattern Ice Skate
Winter comes with cold weather and when it has frozen very hard you can skate! With these skates you cannot go on the ice, but you can make a very beautiful winter scene with it!
These skates are super in a beautiful wreath of pine green. But they also come into their own on a wooden sledge or just hanging at your coat rack!
When you're done crocheting, put your skates by the stove to dry and enjoy a cup of hot chocolate!
Let it be winter and a white Christmas!! Plenty of choice and plenty of time until it's Christmas!