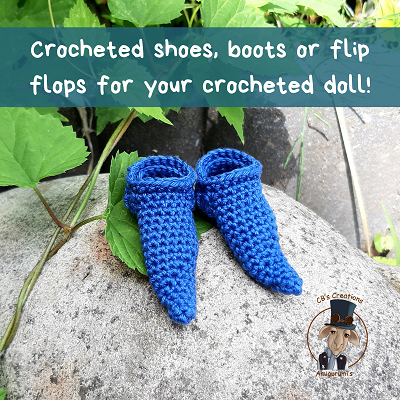 Crocheted shoes, boots or flip flops for your crocheted doll!
If the shoe fits, wear it!
A shoe or a boot completes the outfit of your crocheted creation. With the shoes and the colour of the shoes you can emphasize the character of your crocheted doll! Most shoes and boots are crochetd right on the leg of the creation, but there are also dolls that have shoes, which you can put on and take off. Often these are also dolls where you can also change the rest of the clothes. My IJsbrand the Bear is a good example of this. You can also turn Ijsbrand into Santa's sidekick.
A number of my creations run barefoot such as Alistair MacFire, Victoria Amber Fleming, Joni the Hippie Elf and of course Franklin Forge. They shouldn't think about having to wear shoes, although Franklin might want to have a nice pair of warm fur boots in the winter!
Click on the pictures, they will lead you to the patterns!
So many different shoes
There are shoes in all shapes and sizes. There are shoes that are made for walking, working, dancing and sports. Many sports also have their own kind of shoes.
Then of course you also have the shoes that are made for convenience, such as the slippers and the loafers or that are made for good weather, such as the sandals. There are also shoes to protect you from rain and cold, such as rain boots and regular boots. Let's not forget the shoes to look beautiful: pumps, stiletto, high heels!
Shoes can be attached to the foot in different ways, for example with laces, with buckles or with Velcro.
As I just mentioned, crochet dolls often have their shoes crocheted to the body, which is also the case with most of my designs. I will show you some examples of shoes based on my creations.
New crocheted shoes!
In a crochet pattern, the shoes of the creation are also described. So you already have the basics, but how do you turn them into different shoes?
Colour: choose a completely different colour of yarn than the example. This way you create a different style and look that matches your crocheted doll.
Material: choose a completely different yarn to crochet the shoes with. It is true that if you use very thin or very thick yarn, you should also use this for the rest of the creation, because otherwise you will get weird proportions. But I can imagine a clown with super big feet!
Style: you can turn a pair of crocheted shoes into a pair of sports shoes by different colour laces and a different colour sole!
Decoration: Crochet the shoes in a lovely pink colour and decorate them with buttons, ribbons, beads or flowers. You'll have completely different shoes in no time.
Pointy Elven shoes
There are a number of elves among my designs, some of them have bare feet and some of them have pointy shoes. These pointy shoes are fun in all kinds of colours and sizes!
ROFL even has a few nice beads on the tips of his shoes.
However, there are 2 creations that are not Elf, but do have pointed shoes. These are Douwe Dabbert and Gnome Jiggle. The shoes of Jiggle can be seen in the very first picture of this blog with the title on it.
Boots
Boots protect you from wetness and cold! Boots are also often worn when work needs to be done! Just look at Penny, she wears boots to work in the garden. Rinus wears them during his work as a lighthouse keeper. But also my creations such as beachcomber Nol, Flint, Ferre and Pinocchio wear boots. Pedr the Viking wears nice warm boots with an edge of fur, just like Merri X-Mas!
These boots are all part of the legs of the creation. So they are crocheted to it.
Slippers
Sisters Sandy and Mandy wear slippers to keep their feet nice and warm! Aren't they cute with that edge of fluffy yarn? Marina puts on her slippers on a hot summer day and goes to the beach. Her slippers are decorated with a flower, but how about some nice beads to embroider on the slippers?
Also Xander MacNeander walks on flip flops as you can see!
Shoes to put on and take off
Some of my creations have shoes that they can put on and take off. The same goes for the rest of their clothes. Crochet their clothes and shoes in multiple colours and they always have something else to wear!
IJsbrand the Bear can even dress up as Santa's sidekick, how fun is that?!
Shoes, clown shoes, work shoes and sports shoes
Often you just need to change the colour of the shoe and put other laces in it and they already look very different. Just look at the shoes of The Egg Brothers, Bobby Joe and Chef Antoine or Secretly Strong Simon.
The clown shoes are a bit bigger and longer than the normal shoes and you can decorate them even more if you would like!
All these shoes, just like the shoes of Poppy and Simsala, are crocheted to the body. But you can also crochet Simsala and Poppy shoes very well as seperate shoes. Then leave them open a bit more at the top, so that feet can also be put in!
Wooden Shoes or Clogs
Why does a farmer wear clogs anyway? Clogs have been worn by workers and peasants since ancient times. The simple reason for this is that leather shoes were priceless in the Middle Ages. Due to the muddy soil in the Netherlands, the clogs were perfect footwear.
Farmer Hank also wears wooden shoes and crocheted wool socks!
Boots, socks and skates as decoration
These designs are not suitable for dolls, they are as big as real boots, socks and skates. They are therefore very suitable as decoration for your Halloween, Christmas or Winter House!
I can already see the Witch boots hanging next to your broom, or the Christmas stocking by the stove. Find an old sled and put a few crocheted skates on it and your winter corner is ready.
Extra crocheted accessories
What I also really like to do is to crochet matching accessories with every creation, such as Poppy's bag and hat. Joni and Ent's hats, for example, fit their character perfectly. There aren't many of my crochet creations that don't have a hat or cap!
Give a crocheted shoe as a gift!
Just crochet a pair of shoes and give them as a gift! Puppet lovers and kids love it! But a nice clog, fairy shoe or sneaker are also suitable for making a keychain or bag hanger. Also a nice idea: a shoe as an extra with an envelope with money!
The Highest Time for Sinterklaas or Christmas
Sinterklaas is a Dutch children's festival. Sinterklaas and shoes belong together! If Sinterklaas is in the country, you can put your shoe next to the stove!
People used to walk on clogs and then a clog was placed near the mantelpiece. Nowadays you see all kinds of different shoes by the stove or heater, from sneakers, slippers, boots, regular shoes but also homemade shoes!
A letter for Sinterklaas in it, some goodies for his horse and the next morning there is a nice little gift in it!
Christmas and socks belong together as well, they are called stockings!
It is a tradition to hang your stockings by the fire place.
Now of course you can't wait to start crocheting all these creations and those different shoes yourself! All these patterns can be found here: